California White Water Rafting Guide Books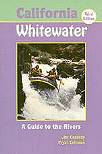 Looking for more in-depth information about the Kaweah River or California white water rafting? Then California White Water by Jim Cassady and Fryar Calhoun is the guidebook you need. This book provides detailed information about the Kaweah River and the multitude of other white water rivers dotting the California landscape. You'll find river access information, mile-by-mile guides and insider details about the river environment--information to make your trip a well-informed adventure. Best of all, you can order the book right now.

If you need a kayakers opinion on the best white water runs in California, look to legendary kayaking pioneers Lars Holbek and Chuck Stanley. In their book The Best White Water in California, Holbek and Stanley give detailed information on the incredible 180 rivers open to kayakers in California. Though this is mainly a kayaking guidebook, each river is evaluated for rafts as well. You can purchase a copy of The Best White Water in California right now from The River Store located in Lotus, CA.