Lodging for the Kaweah River and Sequoia National Park
To many people, camping beneath a canopy of stars is one of the best aspects of a California white water rafting trip. Camping along the Kaweah River, however, is not an option because all the riverside land is privately-owned. However, there are many other camping and lodging options within close proximity to the Kaweah River.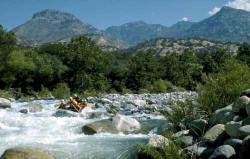 Perhaps the most scenic option is to camp in Sequoia National Park. A few campgrounds are open year-round while others operate only during the spring and summer. Showers are located near, but not in, many of the campgrounds. Some sites have flush toilets while others have pit toilets. All but two of these campsites are available on a first-come, first-serve basis (you may make reservations for Lodgepole and Dorst campsites).
Another option is to stay at Horse Creek campground on the far end of Terminus Reservoir. This is an Army Corps of Engineers campground with motorboat access. Showers and RV hookups are available.
Right on the banks of the Kaweah is the Kaweah Park Resort. Located three miles east of Terminus Reservoir, amenities at this private campground include cabins, showers, RV hookups and a pool.
If camping is a little too rustic for you, Sequoia National Park offers a few options--Wukasachi Lodge is your closest bet. In the town of Three Rivers, there are many hotels and lodges including a Holiday Inn and a Best Western. Many of these accommodations are located on Highway 198, right on the banks of the Kaweah River. Reservations are highly recommended, especially during the summer when Sequoia National Park visitors pack the hotels.
Images courtesy of All-Outdoors California White Water Rafting.