California White Water Rafting on the Kaweah River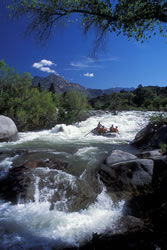 California white water rafting on the Kaweah River is an intense, action-packed adventure. The river begins its journey in the 13,000-foot peaks of Sequoia National Park and descends to the valley floor in only twenty miles. This makes the Kaweah drainage one of the steepest in America. The gradient on the raftable sections of the Kaweah reflects this unusually precipitous persona: the river drops an average 70-feet per mile.
Whether rafting the upper six-mile section, the lower nine miles, or both, the Kaweah is a tumultuous Class IV-V slalom-- a classic California white water rafting river. The upper section begins at the Sequoia National Park boundary and crashes over an unrelenting series of Class V rapids. This section ends near the Gateway restaurant and is usually attempted only by expert kayakers.
The lower section is the most popular run but is still quite difficult. Large boulders pepper the braided waterway and channels are narrow and lined with strainers. Serious hydraulics must be averted and, at lower flows, Powerhouse rapid must be portaged. Only when it flows into the town of Three Rivers does the Kaweah slacken for a short time. After Three Rivers, the Kaweah picks up speed again and doesn't let up until buried by Terminus Reservoir.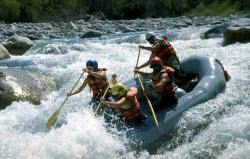 Though occasional homes dot the landscape, the Kaweah canyon is open and beautiful. Highway 198 flanks the river on one side but is rarely obtrusive. Willow, sycamore, cottonwood and alder trees line the riverbanks and are sometimes rooted in the river channel itself. Looking upstream, Sequoia National Park's Alta Peak and Morro Rock stand tall on the horizon.
Because the riverbanks are privately-owned, scouting on the riverside is not possible. Also, many of the more difficult rapids are not visible from adjacent Highway 198. Private boaters are strongly urged to raft the river with someone already familiar with the Kaweah's rapids. This is why many people choose to raft the river with a California white water rafting outfitter.
Images courtesy of All-Outdoors California White Water Rafting.