California White Water Rafting Outfitter on the Kaweah River
The Kaweah is an excellent river to experience with a professional California white water rafting outfitter. Going with an outfitter means no worrying about illegal put-ins, no worrying about where to scout the next big rapid, no stress about running a take-out shuttle. Running with an outfitter allows you to concentrate solely on having a good time with your friends.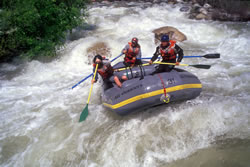 All-Outdoors California White Water Rafting runs trips on the Kaweah River from late April until the end of the river's season, usually in mid-June or when the snowmelt runoff becomes too slight. All-Outdoors is one of the original California white water rafting outfitters, having run trips on twelve of California's rivers for forty years. Check out the award-winning All-Outdoors website to get more information on Kaweah River trips and other All-Outdoors California white water rafting excursions.
Images courtesy of All-Outdoors California White Water Rafting.